Nuevas tendencias en Marketing debido al auge de Internet
Palabras clave:
Internet, Marketing, Comunicación digital, Conducta del consumidor, Tecnología, División Digital
Resumen
El uso de Internet ha traído cambios considerables para la práctica del Marketing. Este artículo lleva a cabo una revisión bibliográfica donde se analizan los factores que están relacionados con el proceso de cambio así como las ventajas, desafíos y oportunidades que ofrece esta nueva tecnología desde una perspectiva del Marketing.
Citas
Armstrong, G. & Kotler, P. (2016). Marketing: An introduction. Harlow: Pearson.
Baker, M. (2016). The Marketing Book. Oxford: Elsevier Science.
Blythe, J. (1997). The Essence of Consumer Behaviour. Hertfordshire: Prentice Hall.
Chaffey, D. & Smith, P. (2017). Digital Marketing Excellence: Planning, Optimizing and Integrating Online Marketing. Oxford: Elsevier.
Chaffey, D., Ellis-Chadwick, F., Johnston, K. & Mayer, R. (2009). Internet Marketing: Strategy, Implementation and Practice (4th ed.). Harlow: Financial Times Prentice Hall.
Chaffey, D. (2014). Digital business and E-commerce management. Strategy, implementation and practice. Edinburgh: Pearson.
Drori, G., & Suk Jang, Y. (2003). The Global Digital Divide: A Sociological Assessment of Trends and Causes, Social Science Computer Review, 21(2), 144. doi: 10.1177/0894439303021002002
Gardner, F. & Roos, G. (1997), "More distributors set up shop on the World Wide Web". EDN, Distributors Joint the Design Team, (Supplement, 15 Aug), 27-34.
Hawkins, D., Best, R. & Coney, K. (2006). Studyguide for Consumer Behaviour. Building Marketing Strategy. Boston: McGraw-Hill.
Kaplan, R.S. & Norton, D. P. (2006). How to Implement a New Strategy Without Disrupting Your Organization. Harvard Business Review, 84(3), 100-109. doi: 10.1108/sd.2006.05622had.002
Kotler, P. & Keller, K. (2015). Marketing Management (13th ed.). Upper Saddle River: Prentice Hall.
Kunitzky, R. (2009). Search engine people [Online]. Available at: http://www.searchenginepeople.com/blog/what-is-partnership-marketing.html [Accessed 22 May 2017].
Long, J. (1997). E-Commerce: Doing What's Best for Business. Data Communications, 26(16), 77-80.
Morden, T. (2007). Principles of Strategic Management. Teeside: Ashgat.
Roberts, M & Zahay, D. (2016). Internet Marketing: Integrating Online and Offline Strategies. Florence (USA): Cengage Learning, Inc.
Robinson, J., Dimaggio, P. & Hargittai. E. (2003). New Social Survey Perspectives on the Digital Divide. IT & Society, 1(5), 1-22.
Rogan, D. (2007) FH JOANNEUM Graz, 28 May - 1 June, International Consumer Behavior.
Ryan, D. (2016).Understanding Digital Marketing: Marketing Strategies for Engaging the Digital Generation. Philadelphia: Kogan Page.
Sandilands, D. (1997). The Internet: a Tool of the Trade? Australian Accountant, 67(11), 14-17.
Weiber R. & Kollmann, T. (1998). Competitive Advantages in Virtual Markets - Perspectives of Information-based Marketing in Cyberspace. European Journal of Marketing, 32(7), 603-615. doi: 10.1108/03090569810224010
Wellman, B., Jeffrey B. & Wenhong Ch. (2002). The Networked Nature of Community: Online and Offline. IT & Society, 1(1), 151-165.
Wind, Y. & Vijay, M. (2001). Digital Marketing: Global Strategies from the World's Leading Experts. New York: J. Wiley.
Wyner, G. (2000). Learn and Earn Through Testing on the Internet. Marketing Research, 12(3), 37-38.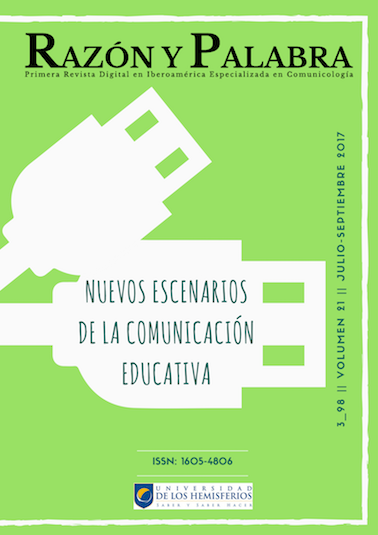 Descargas
Archivos adicionales
Cómo citar
García-Medina, I., Farias-Coelho, P. M., & Bellido-Pérez, E. (2017). Nuevas tendencias en Marketing debido al auge de Internet. Razón Y Palabra, 21(3_98), 276–285. Recuperado a partir de https://www.revistarazonypalabra.org/index.php/ryp/article/view/943
Licencia
Los autores que publican en esta revista están de acuerdo con los siguientes términos:
Los autores conservan los derechos de autor y garantizan a la revista el derecho de ser la primera publicación del trabajo al igual que licenciado bajo una Creative Commons Attribution License que permite a otros compartir el trabajo con un reconocimiento de la autoría del trabajo y la publicación inicial en esta revista.
Los autores pueden establecer por separado acuerdos adicionales para la distribución no exclusiva de la versión de la obra publicada en la revista (por ejemplo, situarlo en un repositorio institucional o publicarlo en un libro), con un reconocimiento de su publicación inicial en esta revista.
Se permite y se anima a los autores a difundir sus trabajos electrónicamente (por ejemplo, en repositorios institucionales o en su propio sitio web) antes y durante el proceso de envío, ya que puede dar lugar a intercambios productivos, así como a una citación más temprana y mayor de los trabajos publicados (Véase The Effect of Open Access) (en inglés).